VISITOR MANAGEMENT
& e-Book data capture solution (Use Cases)
Charlie is an app that turns your visitor book into a real-time proactive solution.
Enhance your visitor management and controlled access to your residential estate, lifestyle estate, office park or commercial areas.
Forewarned is forarmed
| Do you need Charlie?
Charlie augments the visitor check-in process and enables proactive security. Charlie not only replaces the visitor book but ensures that all visits are pro-actively managed from beginning to end, through a series of events that are customized to suit the unique requirements of your residential, industrial or commercial environment.
1 | Is a manual visitor book being used?
Are visitor details being captured into a book by a guard? Charlie is a simple and easy to use digital replacement that allows real time tracking and notification of visitors.
2 | Is an authorised person being notified of a visitor?
Phone calls via "phone box" solutions or using cell phones are costly. Charlie allows notifications to happen in real time and use a cost effective data connection.
3 | Are there different types of visitors?
Visitors range from pedestrians, Ubers, food delivery, contract staff to social visitors. Charlie is not dependant on a drivers license or vehicle registration to sign in visitors.
4 | Monitoring and reporting on visitors?
Facilities managers, body corporates, security companies and more can gain a lot of valuable information from understanding visitor movements historically and monitoring in real-time. Charlie enables comprehensive real-time and historical reporting.
| COVID – 19 Screening
Easily customise Charlie to allow for your business to enforce correct screening protocols in respect of visitors to your premises.
Screening questions can include (but not limited to) the following:
Have you traveled to a high-risk country in the last 14 days?
Have had contact with anyone with confirmed COVID-19 in the last 14 days?
Do you have symptoms such as fever, cough and difficulty in breathing?
Temperature reading (capture temperature)
Make sure you take all the necessary precautions to ensure your workspace remains safe and healthy.
Charlie is proactive security both at home and at work. Make sure you are forewarned.
Charlie Checkpoint App
Charlie enhances the visitor check-in process and enables proactive security at home or work. Charlie not only replaces the visitor book but ensures that those being visited are proactively informed avoiding unwanted or surprise visits.
Capture relevant information about the visitor.
Select a "destination". Destinations can also be a "person".
Create "custom" fields for more specific information you want to record about a visitor.
Requested access is either approved or rejected. Auto-approval can also be configured.
Real time notifications warn you of unexpected visitors.
Features
Charlie
Charlie is an app that works in conjunction with the Charlie Checkpoint app to create an informed and proactive security process.
Download Charlie and register as a user. View pre-approved visit codes, linked CCTV feeds and activate linked IOT devices e.g. open gates or booms remotely.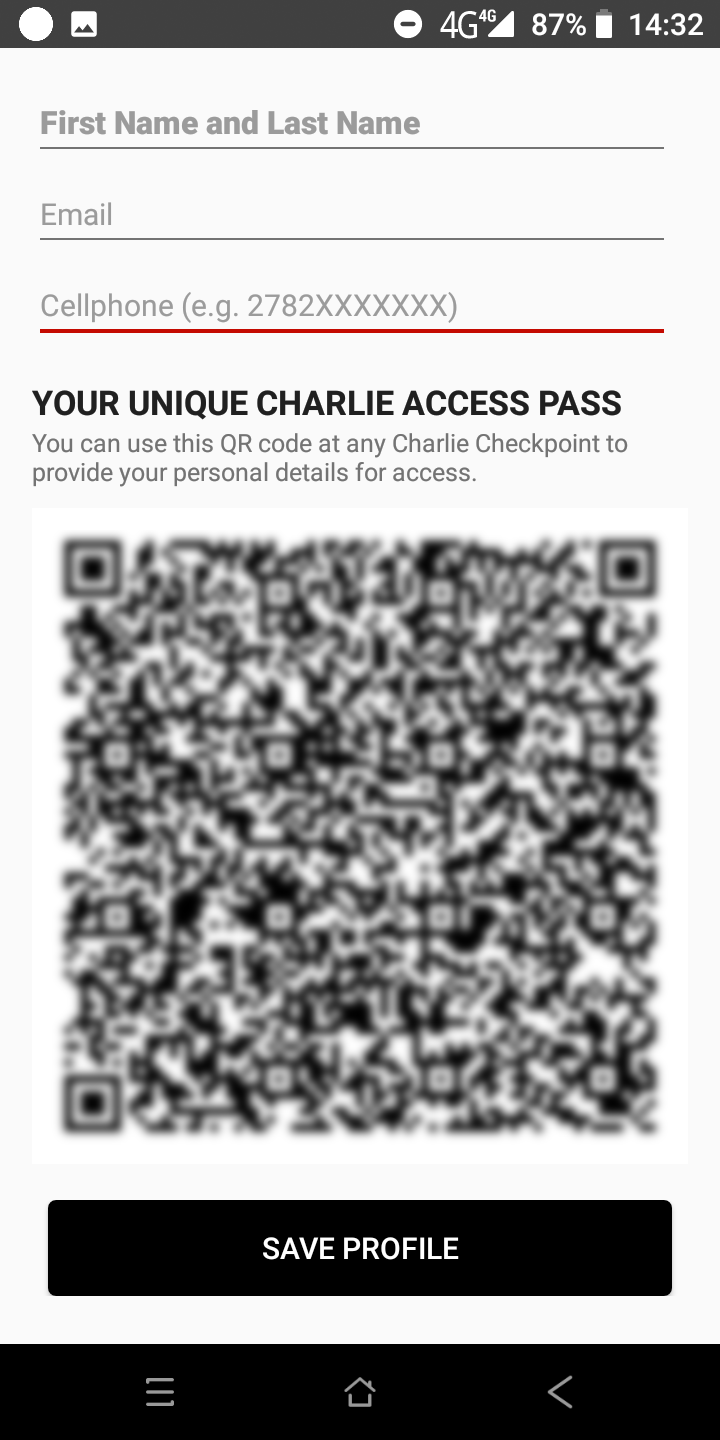 Complete profile details. QR code automatically generated and can be used at any Charlie Checkpoint.
Apply to be linked to a Charlie Checkpoint site to view visitors.
View visitor requests and approve or reject. Auto-approval can also be set.
Charlie aims to achieve a number of objectives.
Seamless integration between checkpoint and destination.

Detailed reporting and business intelligence.

Custom configuration of checkpoint and destinations.
Improved processes and security.

Real time updates and communication including pro-active alerts.
Charlie's flexible plans cater for low volume checkpoints and easily scales to accommodate high volume checkpoints. Checkpoints that experience 'seasonal' volumes can be scaled down in quiet periods.
Charlie Checkpoint App
All the Charlie Checkpoint plans come with the great features you'll learn to love:
Unlimited data retention.

Barcode scan & photo capture.

Login audit & geo-tagging.
Panic alert & real-time monitoring.

Auto approve & SMS notification.

Administration portal for checkpoint users.
Charlie CheckPoint
Charlie 350
* 350 entries per month (single site – unlimited destinations)
Charlie 1K
* 1000 entries per month (single site – unlimited destinations)
Charlie Infinity
Unlimited entries per month (single site – maximum 200 destinations)
Charlie Enterprise
Single Subscription – Multiple Sites and Destinations
* Plans can be upgraded at any time and will be billed pro rata.
Charlie Destination App
Destination Control
In-app notifications, view last 100 entries, images, approval-checkin-checkout-reject, create preapprovals
* first 50 users linked to destinations are free
"Shortly after having downloaded and registered on Charlie I received a notification of a visitor while I was at work. On viewing the notification I did not recognise the visitor. I immediately alerted my wife and domestic worker to be prepared and not to open the front door. I was able to alert security and to resolve what could have potentially been an unpleasant scenario. Charlie is definitely a proactive approach and allows me to be forewarned and prepared."
"The Charlie app is fantastic and in my opinion it's the best security measure taken thus far."
"Hi there I really like the Charlie app. It's the best thing we have had to visually see who is entering the premises."
Managing access to a school environment has many unique challenges. Visitors range from prospective parents to contractors and maintenance staff. Charlie was quick to deploy and immediately provided visibility and accountability for visitors (including time and attendance for on site services). Charlie delivers a cost effective visitor management solution we are very happy with.
"As an access control solution, Charlie is far more user friendly than other solutions we are currently using and brings about tens of thousands of Rands in saving per year. These cost savings in an operational budget are gold nuggets.

The system is cutting edge technology and constantly being upgraded to suit the client's needs. During the original presentation from the Charlie team, we were already convinced that it would serve our needs. After the agreement was made many more extra features were added which we had not even requested. They make the system extremely functional."
For more information regarding the COVID-19 pandemic please visit the official South African Department of Health website at https://sacoronavirus.co.za/